A Christian Passover Ceremony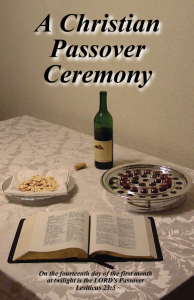 The Christian Passover is one of the most solemn and meaningful of all God's Holy Day observances. So important is this service that individuals missing the opportunity to celebrate Passover due to illness or travel in the first month, are instructed by the Almighty to keep this exact same service in the second month. This booklet and accompanying audio message will help to explain the profound meaning of this holy and humbling ceremony and will walk you through every step of a Christian Passover. Click below to play or download the accompanying audio for this booklet.
Select the image to read or print this booklet online. The audio links can be accessed below. You may also visit our literature request form to order a free copy with or without accompanying CD.
Download the audio for A Christian Passover Ceremony